45-year-old Swiss Manser claimed his third straight title on the 100 km distance; Rennhack, from Bavaria, Germany, set a new course record with a final time of 14 hours, 33 minutes and 41 seconds
In the Pontedilegno-Tonale area, on the border between Lombardy and Trentino (Northern Italy), where the 9th edition of the Adamello Ultra Trail is underway, Swiss Walter Manser and German Karola Rennhack have claimed victories in the intermediate distance, the Adamello Trail, which covers 100 km with 6,050 meters of elevation gain.
Rennhack not only clinched the women's race but also set an impressive new course record, finishing in a remarkable 14 hours, 33 minutes, and 41 seconds. Meanwhile, Manser, aged 45, secured his third consecutive win in the men's category, marking a historic hat-trick and showcasing his dominance from start to finish.
Manser crossed the finish line in Vezza d'Oglio (Brescia) late in the afternoon of Friday, September 29, completing the race in 11 hours, 45 minutes, and 7 seconds. His victory was built from the early on, when the Swiss took the lead, distancing himself from his closest rivals right from the race's outset. By the time he crossed the finish line, Manser had built a commanding cushion of over an hour, leaving Italian ultrarunners Francesco Lorenzi and Nicola Poggi trailing behind.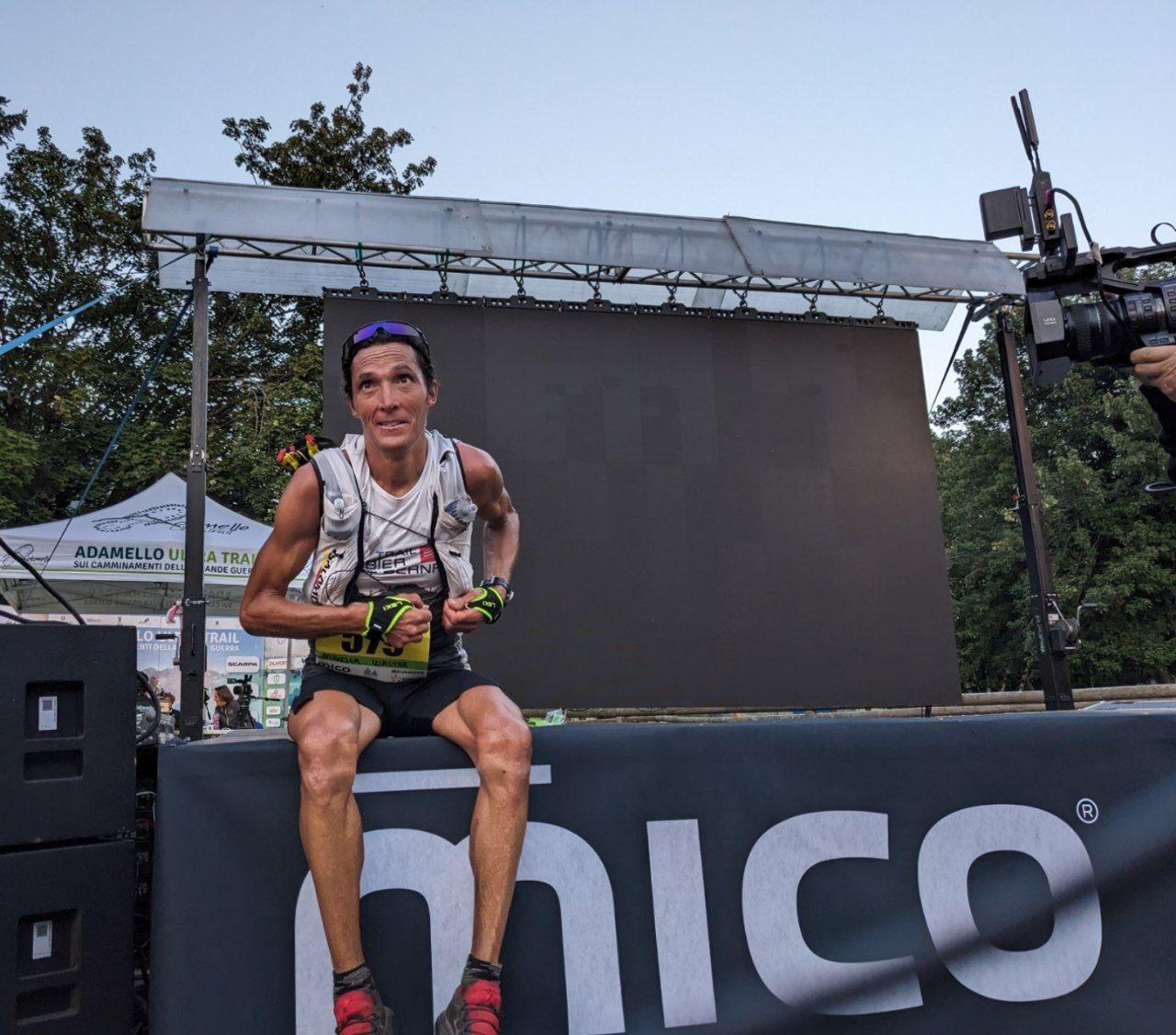 Manser's result is unprecedented: in the history of the Adamello Ultra Trail, no other athlete – on any distance – has ever won three consecutive editions. Manser's time was a few minutes shy of last year's performance, when he had won with 11 hours, 39 minutes and 32 seconds' time.
«I am very happy with my race, even though I started at a very high pace, probably too high. I immediately took a lead and continued to race solo, which I love to do. The day was just perfect: blue sky, great atmosphere, nice volunteers and beautiful landscapes. Normally I don't participate in an event more than twice, but for the Adamello Ultra Trail I like to make an exception. I really love this unique race. The record time? I can't lie, I wanted it, but I didn't make it by a few minutes. Maybe I'll try again, who knows», commented a smiling Manser at the finish line.
On the same day, but a few hours later, Karola Rennhack, a German ultra-runner from Missen-Wilhams, Bavaria, won the Women's race of the Adamello Trail. Rennhack took over the race lead late on Friday morning, after Italian Cristina Filippini had showed up to the fore in the early kilometers of the race.
Adamello Ultra Trail
Rennhack wasn't considered among the top favorites for this race but came on top thanks to a solid performance, preceding Italians Cristiana Filippini and Irene Zamboni. Before winning the Adamello Trail, Rennhack had claimed the Swiss Alpine Marathon this August and was second in the Tenerife Blue Trail. Rennhack also set a new course record with a final time of 14 hours, 33 minutes and 41 seconds.
«It's an incredible feeling and I'm speechless because I never thought I could win this race, especially not with this time: it was a perfect day», Rennhack said. «At the beginning, my legs were quite heavy and, I hadn't felt very good in the previous days, but as the race went on, I felt better and better. I found my rhythm and kept it until the end.»
«I was amazed by the warmth of the volunteers and especially the quality and quantity of the feed areas», noted Rennhack, expressing appreciation for the fact "that there was more food on the table at one feed zone alone than at my entire previous 100-kilometer race, they were all great."